Islamabad: Former Principal Secretary Azam Khan has exposed the cipher drama and said that PTI chairman created this drama only to save his government.
The details, Azam Khan, Principal Secretary of the former Prime Minister, made alarming revelations after coming to the public.
Former Principal Secretary Azam Khan exposed the cipher drama and said in the statement that Chairman PTI created a false and baseless narrative of cipher by hiding the facts, painted cipher as an external conspiracy to avoid no-confidence motion.
Azam Khan said that Chairman PTI said that he will change the narrative of the people by giving the cipher a false color. He took the cipher from me on March 9 and later twisted it. Sow the seed.
READ: May 9 incident: How did Imran Khan answer JIT's questions? The inside story
The former principal secretary said that despite the prohibition, a secret message was waved in the public for personal gain and Cipher was given a wrong color of national security agencies and US collusion, Cipher drama was created only to save his government.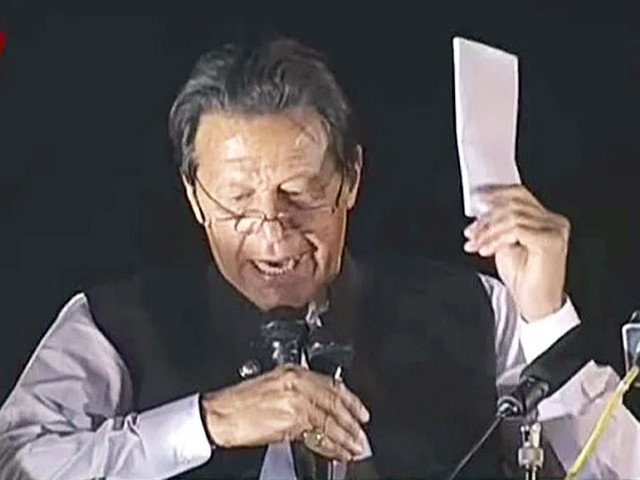 He said that on March 8, 2022, the Foreign Secretary told Azam Khan about the cipher, Shah Mahmood Qureshi had already told the Prime Minister about the cipher, after which Chairman PTI decided to use the cipher to make a statement against the opposition and the establishment. decided.
READ; Preparation of new party Pervez Khattak contact with Mehmood Khan, former chief minister refused
Principal Secretary Azam Khan further said that chairman PTI kept the cipher with him which was a violation of the law, on asking for the cipher back, chairman PTI told about its loss, then Bani Gala on March 28 and special on March 30. The issue of cipher came under discussion in the cabinet meeting, in the meetings the foreign secretary told the participants about the contents of the cipher.