When Dr. Hafiz Waleed Malik completed his MBBS studies late last year, he was awarded 29 gold medals for topping various subjects. Perhaps that is why people are surprised that he has not yet been able to get a job as a doctor in a hospital.
In fact, he wrote in response to a question on Instagram in the past few days that 'I applied to more than 20 private hospitals but could not get a job anywhere.'
He has claimed that 99% of doctor jobs in private hospitals are on recommendation and one percent on merit. "I could be wrong but that's what I've seen."
His talk has been circulating on social media for the past few days and it is being said about him that a young doctor is unemployed despite having won 29 gold medals in MBBS.
READ: Taliban's decision to close foreign NGO schools across the country
But Dr. Hafiz Waleed Malik is not happy with this title and while talking to BBC he explained it.
Recommendation culture is a reality, both for ordinary students and toppers.
Dr. Hafiz Waleed Malik told the BBC that he completed his MBBS from Amiruddin Medical College in Lahore, Punjab province late last year  and then did a house job at the Lahore General Hospital. It was until the beginning of June.
When my house employment ended, the 24-year-old claims that I began applying to private hospitals. Government hospitals did not yet have any available seats.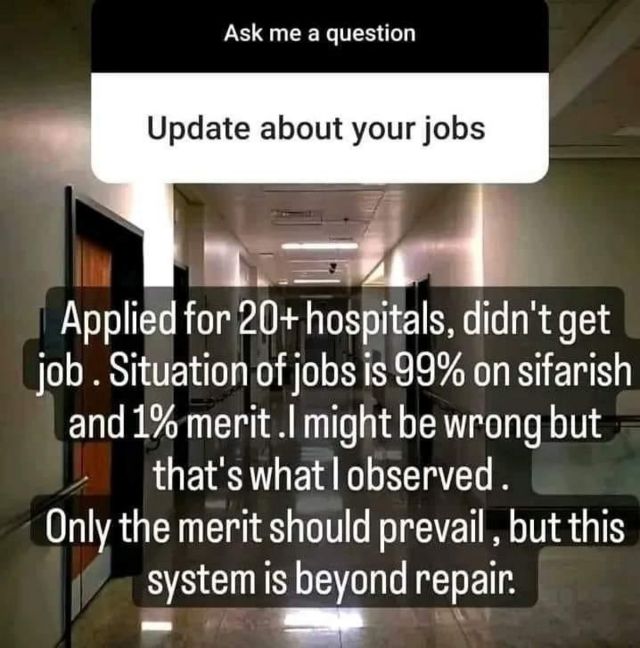 Commenting on the 'recommendation culture' that hinders jobs in the field of medicine in Pakistan, he says that 'seats are not available in private hospitals, where there are seats, professors recommend some children.
"The culture is advised, but sadly there are no jobs, so the kids do it,"
He says he is against the recommendation culture and always wanted to become a doctor on merit. "I think if I give my CV, they should interview me. If you can choose on merit, do it.
Explaining his message on Instagram, Dr. Hafiz Waleed Malik said that "I had posted on Instagram that I was looking for a job." I mentioned in my post that there is a (recommendation) culture. Later, when I was asked about it on Instagram, I said this, which is now circulating everywhere.
"I think there is a recommendation culture, that's a fact. If there are no jobs, the people go there. I want things to be neutral.'
He says that recommendation culture is a reality in the country. Both for a normal student and for a topper. My aim was not to go viral on social media. I don't like the fact that people are saying that this man has won 29 gold medals and is unemployed.
View this post on Instagram
Dr. Hafiz Waleed Malik is still proud of the fact that he has bagged 29 gold medals in a tough course like MBBS.
"I know there shouldn't be a recommendation culture, and I also know things should be neutral in public and private institutions," the man asserts. But you cannot tell private institutions that this should not happen because it is their will.
READ: Gilgit-Baltistan government's decision to give loans up to 50 thousand rupees for government students
We can only talk about government institutions. (But) the health system is like that everywhere. Dr. Hafiz Waleed Malik