In India, a 16-year-old girl, Srushti Sudhir Jagtap, broke the record for the longest dance marathon by dancing for 5 consecutive days and entered the Guinness Book of World Records.
According to the Guinness Book of World Records website, the Indian student's dance marathon was held in the auditorium of her own college.
According to the report, 'Srushti Sudhir was very tired during the dance, but her parents were with her all the time, splashing water on her face during the dance to keep her fresh. '
The young Indian student Srushti started dancing on the morning of May 29 and continued for 127 hours continuously till the afternoon of June 3.
As soon as the dancing time was over, she slept the whole day.
A specific style and quality of dance was chosen to achieve this record. Srushti Sudhir chose the Indian classical dance 'Kathak' for the record.
Srushti Sudhir Jagtap said that it was her dream to represent India through this dance, which has come true today, "I wanted to promote my Indian culture".
READ: Indian actress Tamannaah Bhatia confirmed her relationship with Vijay Varma
Srushti Sudhir Jagtap says that with the help of this technique, she had controlled sleep for 5 days.
'Trained hard to make a big record'
Srushti underwent rigorous training to achieve the big record.
Srushti says that she trained hard for 15 months before making the record, during which she would meditate for 4 hours, dance for 6 hours, and do other exercises for 3 hours.
She used to go to bed at 10 pm and wake up at 3 am every day, getting about 5 hours of sleep every night.
Interestingly, Srushti Sudhir Jagtap had already practiced two dance marathons of 126 hours at home during the preparation, so that she could accomplish this feat on the day of the actual competition.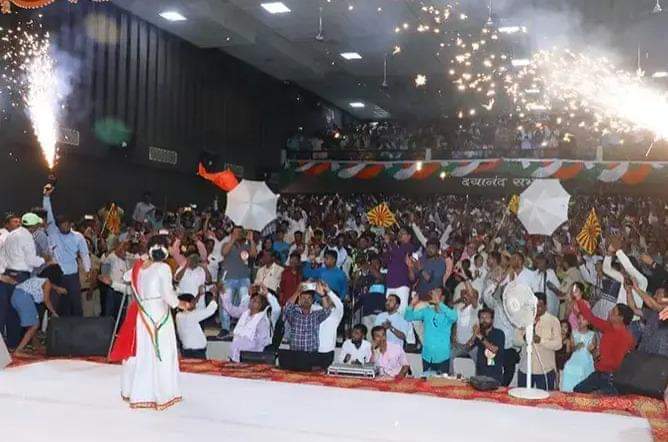 Earlier in 2018, Bandana Nepal, a dancer from Nepal, set a world record by dancing for 126 hours without stopping.
The Indian student also drank coffee, chocolate and coconut water to keep herself fresh and energetic.
READ: Sara Ali Khan broke her silence on her relationship with the Indian cricketer Shubman Gill
"During the dance, I felt like my body couldn't move, I felt like my body was frozen, and I was in a lot of pain, but my mind was fixed on my goal," Srushti Sudhir Jagtap says.
She said that due to rigorous training, I was aware of the changes in my mind and body, so I was calm till the end.