According to Harpers Bazaar Arabia, Sheikha Mahra, who is the daughter of Sheikh Mohammed bin Rashid Al Maktoum, Vice President and Prime Minister of the United Arab Emirates, signed a marriage bond with Sheikh Mana, her fiancé.
The couple revealed that they had celebrated their Katb Al-Kitaab, which is the official marriage ceremony and the signing of the marriage contract, in a statement that was posted on Sheikha's Instagram account.
The couple shared the news of their marriage through a poem written by the groom's father, confirming it.
Everybody is honored with euphoria, and our night is essentially as brilliant as day from the uplifting news upon the arrival of 'Mana.' There is a "Mahra" that emerges from the daughters of the wind and runs along the fringe. It is a place of affection and distance…" The couple did not provide any information or pictures regarding the royal wedding, nor did they provide any information regarding the wedding party's celebrations.
Sheikha, who is 29 years old, is the daughter of Sheikh Mohammed bin Rashid Al Maktoum, Vice President of the United Arab Emirates. She attended a UK university and earned a degree in international relations.
Sheikha Mahra Marries Sheikh Mana | Update on the UAE Royal Wedding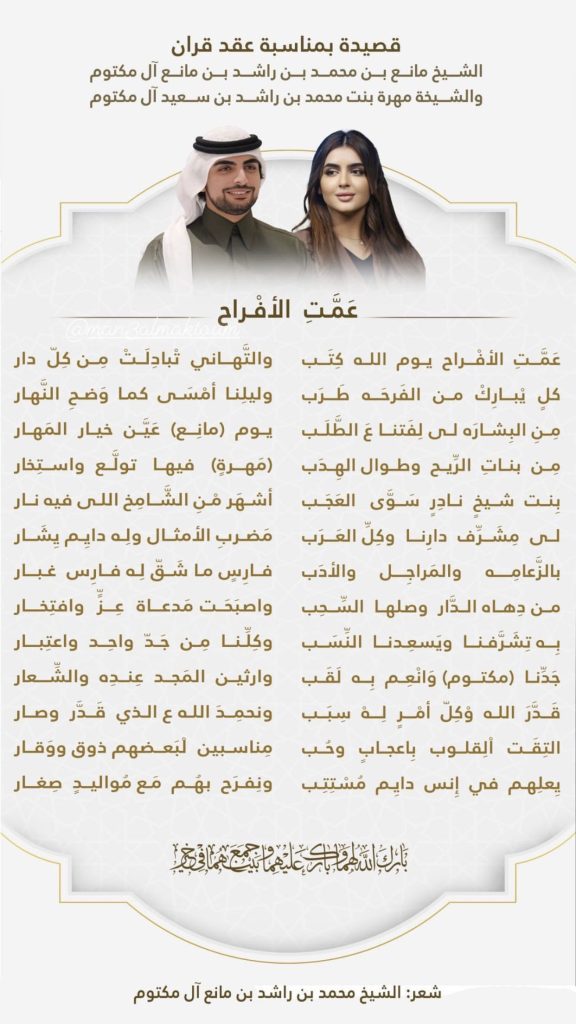 She recently graduated from Mohammed bin Rashid Government Administration with a college degree.
Sheikha has been seen at national events like exhibitions, fashion shows, and award ceremonies, as reported by Arabian Business.
She is also well-known for her social work, philanthropy, and support of causes like environmental sustainability, female empowerment, helping the underprivileged, and advancing local talent.